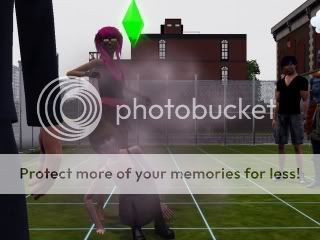 vidkid21 has defeated xMiraclex37 in the most recent fight!
Soon, the two couples fight head-to-head with each other! They soon become house enemies!
"And we are now at the live mummification," Benjamin said! "Whoever is not mummified today will not make it to final 3, which have a 3-part challenge in order to determine the winner of The Last Regular Sim!"
"Cooklez, vidkid21, one of you guys is about to be mummify! This is just a reminder! Whoever is mummify will have a few moments to walk to the cursed sacrophagus of kings, and say be mummified! The next sim in the Last Regular Sim House to be mummified is...
Cooklez!
"Look, I love my girlfriend, the two people who are safe tonight should be going on the block, and this game sucks, and I should not be going to be mummified, but I have to all the sims who are still except my girlfriend, A Hasta La Vista B**ches!
*gets in the sacrophagus*
He is the now in the sacrophagus!
After two days of mummifying, Cooklez is now a mummy!
"Hey, you looked cute as a mummy,' vidkid21 said!
"But I am kinda embarassed about it," Cooklez said!
"Well don't be," vidkid21 said!
"Why?" Cooklez said!
"Because of this," vidkid21 said!
*vidkid21 kissed Cooklez*
Soon, xMiraclex37 walks in, and says "Looking good as a mummy!"
And the house entire house went against xMiraclex37!
And then, SimCrazy breaks up with her!
How will the final 3 worked out? Tune in for the next episode to find out!