Today, I will be reviewing Brendon Bookie.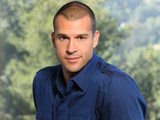 Let me start off by saying this. This season should of been another All-Stars season. There is a lot of other dynamic duos other than Brenchel, JeJo, and the Donatos. If you do not believe me, there is:
Lane and Britney
Jessica and Eric
Dan and Memphis
Dr. Will and Mike "Boogie"
Adria and Natalie
Janelle and Howie
Chelsea and James
Lydia and Kevin
Hayden and Kristen
Jason and Danielle (Though I won't think that Danielle will be in that season due to Dani Donato being there)
Amy and Marcallas
Jase and Holly
Drew and Diane
James and Sarah
See what I mean! Now, onto to the review! In Big Brother 12, I hated him along with the majority of the cast. This season, I still hate him. He was a bully like Jeff, and people like that are ruining America. Lady GaGa is even trying to convince Obama to make a law about bullying. Plus, I was bloody pissed when Brendon Bookie got back in the game. I am 100% sure the results were rigged. Luckily, CBS got a slap in the face when he got evicted the week after he got back in the game. Plus, when he thought he was being demasculated by Rachel was just plain silly.
Sorry for all the hate, but I hate Brendon Bookie. Don't worry, we'll get to some loving later.